What does C channel look like and how to use strut clamp?
Views: 203 Author: Site Editor Publish Time: 2020-06-22 Origin: Site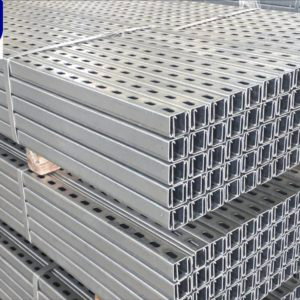 The structural channel, also known as a C-channel or Parallel Flange Channel (PFC), is a type of (usually structural steel) beam, used primarily in building construction and civil engineering.
Strut Channel:
C-Channels are standardized channel section. When looking at a cross section it has a vertical web with horizontal top and bottom flanges. The Structural Channel, also known as a C-Channel is distinguished from I-beam or H-beam or W-beam which has flanges on both sides of the web.The strut channel with no holes and no slots.It is very common for most application.However your particular application may require the use of slots.It is strut channel with holes.And you can see the slots on it.
The length of both two channels is 10ft and the size is 41x41mm and 41x21mm.And the wall thickness is 1.5mm to 2.5mm.The surface finish is pre-galvanized or hot-dip galvanized.And on the strut channel, we have the plaint one without holes, and the slot type, the hole size is normally 14x28mm, or any customized hole size is available. The thickness we can produce is from 1.2mm to 2.5mm. Normally our customers need the thickness 1.5mm, 1.6mm, 2mm or 2.4mm.
The way to use strut clamp:
Anytime you need to install the conduit to a piece of strut channel,you will use the part call strut clamp.In this particular model we are going to install a strut clamp with a piece of conduit and channel.The way this product works is you simply clamp it together placing the bolt and nut at the top nice and loose.Then you insert it inside of the strut channel and you twist it so that the slots aligns with the ridges on the strut channel.
Once it is in place,you can spread it out and wait to accept your tube.Simply lift it up and slide through the tube,and then quickly tighten it down with your screw driver securing the nut and bolt.When you do this,it is going to bring together the two sides clamp tightly on the conduit and give you a tight or secure install as your conduit runs across the strut securing it to a wall or overhead in the ceiling.
These strut clamps comes in half-inch size,three quarter inch,one inch,inch and a half,two inch,two and a half,three inch,three and a half inch,four inch sizes.They are zinc plated for great corrosion protection in just about any setting and they are made from rugged hot-dip galvanized steel.